Product Review: Makita AN453 Roofing Coil Nailer For Roof Repair Orlando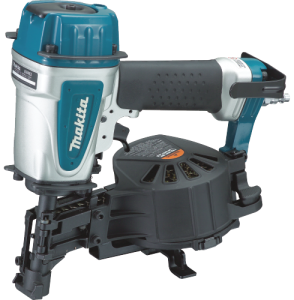 Pneumatic nail guns for roof repair Orlando come in two styles—the coil and stick types. Coil nailers have adjustable canisters that accept coiled nails while the stick type have long magazines that can load two sticks of nails.
We reviewed one of the pneumatic coil nailers readily-available in the market, the Makita AN453 Roofing Coil Nailer, and evaluated its performance based on what its manufacturer states against actual customer review.
What the Manufacturer Says
The Makita AN453 coil nailer is designed for rugged construction and robust performance at less weight. It is equipped with a magazine that has a capacity to hold up to 120 nails with a size range of 3/4 to 1-3/4 inches.
The lightweight and durable aluminum casing ensures the long-lasting performance of the product. The canister is fully adjustable for easy loading of nail sticks. To provide better control while driving nails to the roof, the product was manufactured with a tool-less depth adjustment and flush nailing. To further extend the tool's performance life, the nosepiece comes with large carbide inserts.
Other features of the Makita coil nail gun include:
Rubberized handle for more reliable grip and extra comfort
Tool-less shingle guide for consistent placement of nails and easy adjustments
Steel plates to prevent damage from abrasive surfaces
Easily-removable nose assembly for cleaning
Durable aluminum housing
Lightweight at 5.2 lbs but packing more power
A limited three-year warranty
Package includes a hex wrench, pneumatic nailer oil and safety goggles
What the Customers Say
Buyers' feedback on the use of the product is mixed. On the negative side, some customers complained that the product was not built with quality because of some irregularities in the shape of the metal casing. Misfires including double nailing were noted as well as failure to sink the flush nails. Users do not recommend using the tool for a complete roof project because the product is more suited for a DIY rather than a commercial project.
Another negative performance noted by users is the inability of the tool to consistently sink nails while doing rapid firing. The nailer has to be held down on each nail before triggering the tool for the nails to properly sink in.
Positive customer review cites that nails load easily while the installed magnet ensures even the last nail gets properly fed. The depth adjuster is easy to use by turning the knob to the proper direction. Using rapid fire trigger is not a problem through the depth adjuster and additional tinkering with the compressor pressure.
What We Say
Based on customer feedback, we say the product is suitable for home use and DIY roofers. It functions as a reliable home tool but is not recommended for commercial and large-scale use.