Your Ultimate Guide to Roof Repair Florida
Floridians are no strangers to feel that they are between a rock and a hard place when it comes to their roofing. For the most part, insurance companies dictate when homeowners should replace their roofs, at great expenses of course. Fortunately, there are tons of reputable roofing contractors that have the best roofing services; they will take on the roof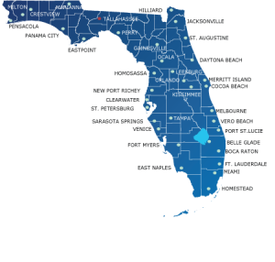 repairs at the best prices. Here is a guide to roofing repairs Florida.
Types of roof repair
Your roof should last up to 20 years if it is always well maintained. One of the biggest reasons that roofs fail and need a full replacement is lack of maintenance. To enhance the lifetime of your roof, use proper measures to check on any damages and to ensure that you get the right type of repairs for your roof. Roof damages range from weather initiated damage to damage caused by debris.
Hail damage and repairs
Hail damage occurs when a storm hits the roof. It can be difficult to find out the extent of hail damage done to the roof. Even though you can climb the roof physically, there are ways you can detect damage without the climbing. Check the gutters for any dents and dings. If the hail damaged the gutters, chances are that the hail damaged the roof. Call a contractor to fix it once you notice the hail damage.
Crack and tears damage and repairs
Roofs that have been shingled or tiled are prone to cracking with age. Cracks can cause potential leaks. They may not be seen from the ground, some cracks are just too thin to be spotted without close inspection. If you suspect that your roof has undergone a gradual wear and tear, it is important to find help form roof contractors. They will be able to inspect the roof and find out if there are any cracks or tears.
Debris accumulation
An accumulation of debris through different parts of the roof drainage system, from gutters, downspouts to the drain openings could result in roof damages. Organic debris such as leaves creates fungal growth or stains within the roof. This type of debris causes moss to grow and shortens the roof's life. Removing this debris yourself is therefore important. If you suspect any damages, you can find help from roof contractors. They will be able to effectively clean up the roof, identify damages and remove any debris accumulation damages if any.
Skylights
A skylight could develop a leak. This is a more complex and costly roofing repair. This is because the surface of the area that surrounds the light has to be cleared of shingles and new flashing has to be installed around the fixture. Later new shingles have to be installed.
Wind damage and repairs
Strong winds usually lead to roof damages, especially if the original installation was not done perfectly. It is thus important to ensure that the roof decking is done well during installation. Otherwise, the air from strong winds could loosen fasteners and adhesives used during roofing. Roof repair Florida contractors will be able to inspect the roof to find out if installation was done well. In case of wind damage, they will repair the roof and make the decking firm to prevent any future damages.
How to find a good roof repair in Florida
When looking for a roof repairer in Florida, the things to look for have always remained the same, always find a company that has a reliable brand name product, is licensed and can offer the best services. You can ask your neighbors

or find fort lauderdale roofing referral from a friend. Here are steps to assist you in finding the best Florida contractors.
The first step is to acquire a list of locally based roofing contractors. For instance, you can find Miami roofing or tampa roofing contractors when looking for a specific location. One way to do this is through finding out if they are members of the Florida Roofing, Sheet Metal and Air Conditioner Contractors' Association (F.R.S.A). This organization assures its customer that they will be hiring one of the most qualified and knowledgeable companies for the job.
If you find a reliable company, ask to see their Florida state contractor's license issued to them by the Department of Business and Professional Regulation. This department issues roofing contractors in Florida a roofing license in form of wallet-size card. Make sure that you check on this card to ensure that they are licensed. Look keenly to find out if this license is current. You also check these licenses at their website.
Roof repair costs Florida will vary with the type of damage and the roofing contractors. Tampa roofing could be cheaper or expensive depending on roofing contractors' availability. However, for Florida roofing there is an average price of roofing repairs.  For are more detailed and specific estimate use our free roof replacement calculator
Materials
When carrying out roofing repairs, the type of materials used during the repairs greatly affects the price range of roofing. Plywood that is of about 5/8 thickness goes for $20. Standard square shingles that are needed for 100 square feet of roof average at about $100 each. There can also be nails which are fired from a gun that could go for $65. The total material costs will highly dependent on the extent of damage.
Labor
While roofing repair could require only basic tools; there is more to the repair than just the basic. If there happens to be chimneys, flashing, valleys and skylight involved in the roof repair Orlando, the work done is much more complex. This is why homeowners should hire roof repair professionals for the work. The cost can vary form $45-$75 depending on the company you choose. Most simple repair jobs can take about two full business days to be fully complete.
When closing the deal, get a written proposal with a complete description of the work that is going to be performed and the necessary permits with warranty agreements. The lowest bid may not be the best bid. There will be a huge difference with the material quality and craftsmanship. Communication is vital for success in the roofing project. Make sure that you explain your roofing damage concerns to ensure that the roofing is done correctly and that your roofing problems are handled with finality.