If you are in need of a new roof, you might want to know how much does a metal roof cost, especially if you're considering having a roof that will last for many, many years to come. Whether you are repairing a current metal roof and taking a look at metal roofing cost for repairs, or are replacing an asphalt roof with a new metal one, you should have a good idea of metal roofing prices before you go any further.
Metal roofs can last for as long as 50 years, sometimes longer. So your investment will go a long, long way.  This type of roof will only add to your home's resale value in the future, also.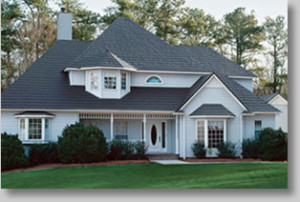 Depending upon where you live in the United States, prices for metal roofs can vary widely.  The overall cost can be anywhere between $13,500 and $24,165.  But upon resale of your home, you can generally recoup from 87.5% to 95.5% of the money you've spent on your metal roofing.  That is money well spent, indeed.
You can also look at the cost of metal roof installations by estimating the cost per square foot of the roof area you are covering.  The average square foot cost this year ranges from $8.06 to $10.72, again depending upon your location.  If you use a contractor who is bonded, licensed and insured, or if your roof repair or installation is especially intricate or a rush job, you can expect to pay the upper end of this pay scale.  To obtain an instant estimate of your metal roof replacement costs then use our online calculator.
The estimated metal roof cost will usually include materials, equipment, prep work, job cleanup, debris removal of the older or damaged roof, labor and installation.  If a general contractor will be overseeing the work and supervising the roofing team, you may expect to pay anywhere from 12% to 19% more in total.  And do not forget to add in sales tax on materials you will be charged for and any permit or inspection fees if applicable from your local town building department.
If you are more of a do-it-yourself type, your roof cost may be much lower than previously estimated.  Even if you only purchase the materials yourself and then hire a roofing firm to install it, you can save money.  You may want to purchase the steel roof panels yourself at a home hardware store, but you need to know how much to buy and all of the materials you will need for the job, and this can be difficult for a non-professional to accurately figure out.
Not only will a new metal roof add to your home's resale value and last you a very long time, but it will also add to your home's energy savings.  Energy efficient metal roofing will reflect the sun's rays, cooling your home in summer, while high emissive roofs can lessen air temperature by more than 10 degrees.  You will use less cooling energy and lessen your carbon footprint by generating less air pollution that air conditioners put out.  Metal roofs reflect solar energy and the solar radiation that is absorbed is re-emitted.
So how much does a metal roof cost you in the long run?  The answer is not very much at all when you look at the longevity, the energy savings, the resale value, and even the possibility of lowering your home insurance with discounts in areas that experience extreme weather conditions that metal roofs can withstand more safely than other roofing materials.