Quick Review of EternaBond RoofSeal RSW-4-50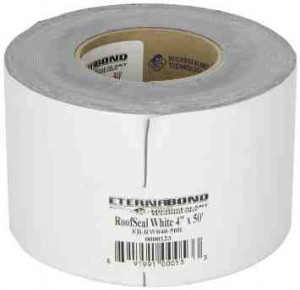 Leaking is a recurring issue with all types of roof. Extreme weather conditions wreak havoc to even the sturdiest roof and its capacity to keep water off the interiors. When the time comes to repairing leaks, people use different methods and materials to address the problem. Some require extensive labor and preparations while others involve only very minimal work.
One of the most-preferred methods of sealing roof cracks is the EternaBond RoofSeal RSW-4-50. The product is available in tape form with its MicroSealant Technology that effectively plugs leaks and water proof surfaces. It is characterized by simplicity of its application and bonding strength once properly installed.
As with most products, there are strengths and weaknesses, as perceived by the public, found in EternaBond RoofSeal RSW-4-50. Here are what we found:
Why Use EternaBond RoofSeal RSW-4-50?
Durability. The product is extremely durable. It could last from 18 to 35 years. The longevity is particularly important because other products require frequent and regular maintenance to stay in tip-top condition. With EternaBond RoofSeal, you only have to properly install it on the roof, and it will do its job of protecting your roofs from leaks.
Fast Install. The simplicity of use is one of the best features of this product. Unlike other roof sealants that require extensive preparations, including mixing chemicals and solutions, no extensive preparation is necessary before you can use the product. While removing dirt and debris from the crack is important, a minimal cleaning of surface will do just fine.
Waterproof. The product, with its Advanced MicroSealant Technology, provides a water-tight seal of the leaky roof with its extra-strong adhesive that adheres to practically any roof surface. A built-in primer ensures the tape bond with the surface while the UV-stable backing incorporated in the design makes it last for decades under direct sunlight.
Universal Application. EternaBond RoofSeal may be used on practically every kind of roof materials, including aluminum, concrete, wood, shingles, metal roofs, galvanized steel, TPO, EPDM, PVC, gypsum board, fiberglass and much more.
Something to Think About Before Using EternaBond RoofSeal
Based on consumer comments and reviews, a few apparent weaknesses of the product were noted. Among these are:
The product works well only on flat surfaces;
It will not work on wet surfaces;
Bubbles sometimes form on the covered seam and run through the entire length of the strip;
Very hard to remove if you inadvertently stick it to the surface;
And it is said the product will not stick to rubber roofs with roof coating.