Garelick Snow Rake for Roofing Maintenance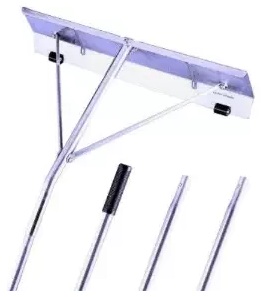 Most countries observe four seasons in a year—winter, spring, summer and fall (autumn). However, the dates when these seasons start vary depending on what country you live in.
Fortunately, our scientists (meteorologists and astronomers) agree on the months when the seasons start. Winter starts in December, spring starts in March, summer starts in June and fall starts in September.
Winter signals the coming of snow particularly in the northern states. By this time, homeowners should be preparing for snow on their roofs and its unwanted effect—ice dams. Ice dams form when snow melts, runs down the roof and freezes near the edge. Water pooling behind the ice could drip through the roof and damage the ceilings.
Therefore, preventing the accumulation of snow on the roof is important to stop the formation of ice dams. One of the best snow removal tools for roofing maintenance in the market is the Garelick 89421 21-Foot Aluminum Snow Roof Rake with 24-inch blade.
Positive Features of the Product
The Garelick Roof Rake boasts of its patented "shingle saver" rollers designed to brush away snow without the blade touching the roof's surface. These are the best features of the product:
The roof rake is very lightweight, weighing just 5.8 pounds. Practically anyone can use it scrape snow off the roof.
The blades are long so you can brush off the snow in one stroke.
It has a large shovel head with shingle saver to keep your roof safe from accidental scraping.
You can separate the roof rake into four separate sections for easy storage after use.
It does not damage your roof because the blade does not touch the surface.
The aluminum material used on the rake means that it is corrosion-free.
Negative Features of the Product
Similar to other commercial products, the Garelick Roof Rake has its downsides. These include:
The product is more expensive compared to other snow roof removal tools in the same category.
Removing a large quantity of snow at once or in a single swipe could damage the blade.
The rubber blade occasionally detaches from the body if you pull on it.
Customer Reaction
Customer approval over the Garelick roofing maintenance rake is overwhelming. Buyers are very satisfied with its performance in safely removing snow from the roof. The only significant albeit very minor complaint refers to the bolts, nuts and washers that came with the product. Most suggest replacing them with something sturdier.