Advantages and Disadvantages of Green Roofing in Denver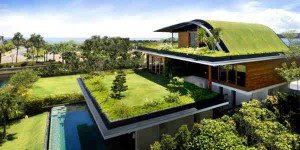 Denver's climate can be very erratic. It can get very hot in summer and too cold in winter. These contrasting extremes  can put roofing in Denver to its toll. Thus, it is important to plan carefully when choosing a roofing in the area. You should also ensure that the laborers you hired are really knowledgeable in roof installation.
There is a new trend going around in terms of this subject though, that is the use of green roofs. According to sources, this is sweeping Chicago and Portland like a storm.
Benefits of Green Roofing in Denver
What makes it very ideal for dwelling places is it serves as a filter, insulation, and protection to the roof. This is also a great alternative for health-conscious  homeowners and for those who truly care for the environment.
Here is a quick discussion of the key benefits of green roofing in Denver homes:
1. Insulation
A green roof is particularly handy during seasons where the heat can be unbearable. The vegetation in the roof will help absorb some of the hot temperature. It produces a heat island effect. This will, of course, trickle down to the structure below to the benefit of the members of the household.
2. Filtration and Protection
The green lush in your roof also function as a water trap. It effectively absorbs rain water, together with all its impurities. Then when the sun is scorching, it helps shelter the roof from immediate decay. Studies say that it will increase the life of a roof three times over.
3. Effects in Health
Aside from protection from harsh weather, a green roof shields the health of homeowners by filtering the contaminants present in the air. Research has shown that a green roof can effectively take in 95% of the heavy metals in the atmosphere.
4. Contributes to the Environment
A green roof helps promote a healthy ecosystem. It attracts birds, bees and butterflies. This could be a negative thing though because it can be a magnet for other insects and critters. However, this is something that a regular maintenance can address.
5. Adds to the Beauty of a Home
Lastly, a green roof contributes to the aesthetics of a home. This aids in increasing the overall appeal as well the value of a house.
Downsides of a Green Roof
Much like every good thing in this world, a green roof has some disadvantages to the homeowner. In addition to being an insect magnet, it does require regular maintenance, it is costly to install, and it presents difficulty in servicing the roof when needed.