A Practical Solution: Drones in Roofing Inspection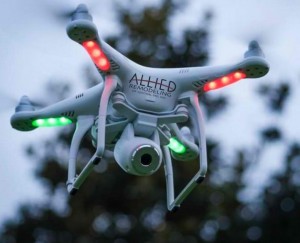 Drones are no longer just exclusive for military, scientific, or leisure purposes. They are also handy when it comes to roofing inspection that's why more roofers are now turning into this practical solution.
Based on an article from Baltimore Business Journal published last year, Towson's Allied Remodeling of Central Maryland Inc. claims to be able to save $70,000 to $80,000 using drones or UAVs (unmanned aerial vehicles). That's because the process no longer requires ladder trucks just for inspection of the roof.
The company owns six ladder trucks for evaluating roofs. But with the introduction of the drones, it decided to replace the trucks with it. All six drones only cost them $7,000.
Before this method, the inspection would require a representative of the construction firm to climb up the ladder truck to assess things out. Of course, that exposes the inspector to several risks like falling from the roof. The truck also requires a considerate amount of fuel to function.
The company estimates spending $1,300 monthly for the maintenance of each truck. Doing the math, the said figures cost more than the price of each drone. There will no longer be a need for the person conducting the evaluation to use the ladder truck as he can just pilot the drone over the customer's house.
The drones are mounted with high-definition cameras. That means the inspector can see things clearly from the video feed of the UAVs like he would when looking at the roof firsthand while standing on top of it or from a ladder truck.
From the mentioned figures, drones will certainly present a lot of savings for roofing companies whenever they conduct inspections. In addition to the savings, there will be less likelihood of accidents that would result to a huge cut in the company's insurance as well as expensive lawsuits that may arise from the incident.
Furthermore, the use of drones in roofing inspections is well received by clients. That's because the video feed of the drone patrolling above house can be viewed by the customers too. The customers will no longer need to climb the roof to ascertain the findings of the roofing inspector.
So if you happened to be running a roofing company or you want to inspect your roof all by yourself, a practical solution would be to buy a drone with high-definition camera instead of buying or renting expensive ladder trucks and risking yourself from fall-related injuries.