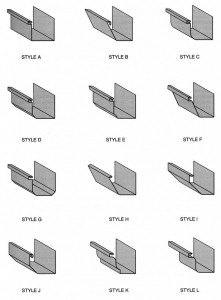 There are different types of gutters with respect to materials, sizes and styles. We listed here the most common to serve as your quick and easy reference.
Box Gutter
This type of gutter is used mostly on commercial and light industrial buildings because it is capable of holding a large volume of water. Unlike most gutters, box gutters do not hang on the edge of the roof.
Half Round Gutter
The shape distinguishes this type of gutter from other gutter types. It may be made of plastic or metal. Seamless half round gutters are available, which can be installed on the site.
Seamless Gutter
Unlike the traditional sectional gutters, seamless gutters are made and installed on site and have no seams, eliminating most of the causes of leaks. However, they cost more than most sectional gutters.
Fascia Gutter
This one is fixed to a fascia board under the roof. Fascia gutter is customized and affixed to the end of rafter, serving another purpose as fascia board.
Integral Gutter
A style that was popular during the 1960s, integral gutters can hold more rainwater than other gutter types. Its main problem is the potential for leaks since it is inserted between the ends of the fascia and rafters on sloped roofs. Inspection every few years is highly recommended with repairs on the lining to be made every 5 to 10 years.
Copper Gutter
This is an elegant type of gutter that is preferred more for its looks. It costs more – up to 3 time – but is durable and lasts a long time. To ensure a long lifespan, the fasteners must also be made of copper.
Steel Gutter
Galvanized steel is the most common material used for steel gutters. Compared to other materials, steel gutters are heavy to work with, which may not go well with people who prefer to install the gutters themselves.
Aluminum Gutter
This is the most common type of gutter used today. It does not rust and is available in different colors. You can even paint over it. Aluminum gutter may be bought in different thicknesses.
Vinyl Gutter
One of the cheapest gutter materials available and preferred by budget-conscious homeowners. Its drawback is its lack of durability and susceptibility to ultraviolet rays. It is also prone to discoloration.
Wood Gutter
This is not a common type of gutter. You will not normally see one unless you pass by a house undergoing restoration work. Wood gutters were sourced from old growth cedar trees that are no longer widely available today.