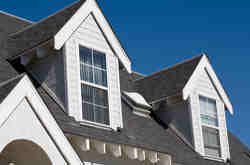 Attics normally function as an extra living room or bedroom. They also often serve as storage area to keep our collectibles, souvenirs, old pictures and just about everything that is valuable to us.
Attic windows are normally installed on attics and serve three basic purposes – ventilation, lighting and aesthetic appeal. Different attic window types are available, including rose windows, top-hinged windows and skylights.
One of the most popular attic window type are the skylights because they allow more natural light to penetrate into the room compared to other window types. During the winter months, they heat up attic space by funneling the sun's heat inside.
Rose windows are circular in shape decorated with stained glass. Top-hinged windows are also popular because they provide not only natural lighting and ventilation but access outside the roof in case of emergencies.
Whichever type of window you have installed on your attic, time comes when you have to clean and service them to keep them in optimal condition. Below are the safe ways to clean your attic windows.
Practical Tips in Washing Attic Windows
Use a window cleaner with an extension pole to reach high window panes.
Products designed for cleaning high windows are available, including a telescopic window washer. It comes equipped with squeegee, microfiber and telescopic handle that stretch your reach to clean those hard-to-reach areas.
Use a high-quality squeegee with new and sharp rubber blade. Replace the blade frequently or as soon as you notice streaks on the p
Clean water is generally sufficient to clean window panes. Soft water is very good for cleaning windows. Non-abrasive ordinary household cleaners may also be used.
Use a soft, lint-free cloth, chamois, non-abrasive sponge or leather and window squeegee.
Avoid touching the silicon part of the window assembly to prevent damaging it.
Avoid using abrasive cleaning products that could damage the pane. Sharp objects, including pieces of jewelry should not come in contact with the pane.
Avoid using chemical products for the window pane.
Never forcibly wipe off dirt from the pane without first using water to clean it off.
If you are cleaning a roof surface near the attic window, be sure to cover the window pane with protective plastic or similar materials to prevent damage from abrasive materials.
Remove leaves and other debris from the flashing to ensure the free flow of water.
Remove snow and ice that settled on the pane to allow water to drain off the window.