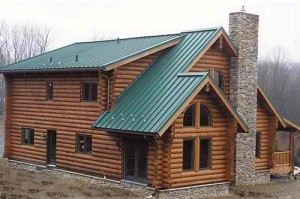 Contractors and homeowners consider different things before deciding on the materials to be used in log cabin roofing. These are the design of the cabin, location, construction budget, and other matters such as the use of green or eco-friendly design and materials.
General Guidelines in Cabin Roofing
Roof Design. A rule of thumb in log cabin roofing is that the design should blend with the topography or surroundings. A well-designed roof should present a challenge for those searching for it among the landscape.
Roof Pitch. The pitch of the roof is also important in roof design. As a general rule, the steeper the pitch, the more expensive and attractive it becomes. Pitch is determined by the vertical rise of the roof over the horizontal run. A common angle for pitched roof is 12, meaning that the roof rises six inches for every foot of horizontal length.
Cold or Hot Roof. Another factor that has to be considered is whether the owner wants a cold or hot roof design. In cities with cold climate (generally in the northern part) a cold roof is desirable for a log cabin. A ventilation is purposely built on the attic, which allows air to escape on the side. This design prevents ice dams from forming on the eaves.
A hot roof design is suited for cabins located in warm climates. Unlike a cold roof design, it has no ventilation on the side for air to escape through. Instead, an insulation is installed on the underside of the roof to prevent the entry of heat into the cabin.
Timber Roof System. Some people prefer timber roof systems on their log cabin for their aesthetic values. This type of roofing can be costly for some homeowners. You can save up to a third of your budget for a timber roof system by opting instead for the conventional truss or rafter roof. You can then add decorative timbers afterward for the same look.
Roof Color. Aside from the material used on the roof of the log cabin, serious consideration is also given in the color of the roof since it affects energy efficiency. Light colors are advisable for hot climates since they reflect sunlight and absorb minimal heat. Dark colors are suited for cold climates because they absorb heat, which is transferred from the roof to the interior of the cabin.
Green Roofs. If you prefer "green" roofs, materials for eco-friendly roofs are available. For instance, a metal roof is ideal if you want to tap rainwater for gardening. Green roofing does not cost more than conventional roofing.