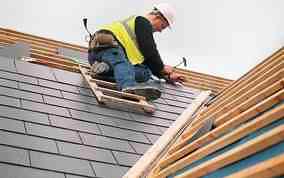 There are several reasons why fall is the best time to call Chicago roofers to start working on your roof replacement. Networx recently shared some tips showing why you should take advantage of that season and not wait until winter or summer to do it.
Ideal Weather Condition
Elements such as rain, summer wind, and instances of hurricanes can really get your roof beat up. The effects are multiplied when it is already near the end of its lifespan. Any holes or cracks left behind will get worse once winter starts. That will certainly present a lot of problems to your household.
Fall presents an ideal condition when the weather is more stable, especially when the thermometer reading is at 45 to 50 degrees. The said temperature is favorable for the installation of asphalt shingles, because the ambient warmth lets the seal strips of the shingles to melt and adhere properly in a process known as "thermal sealing."
Chicago Roofers Can Work Easily
During this time, the temperature is not too hot. Thus, it presents a better working condition to any roofer. That will help roofers deliver a faster and more efficient job.
In addition, the mild temperature will prevent the shingles from getting brittle during installation. Getting it brittle will increase its tendency to break while pressing it in place. That factor will also force roofers to nail them manually with a hammer instead of using roofing guns. Of course, that will add to their burden and may result to a longer completion period of their work.
Energy Savings
Getting your roof ready before winter starts will help you shave off the cost of your energy bills. If you have your HVAC system installed in the attic, a roofing with a good condition will let you maximize its effectiveness in maintaining the temperature of the home.
Furthermore, having your roof replaced will allow you to avail of the federal tax credit for energy efficiency until December 21, 2016. This is subject to certain conditions though like the roofing material must pass the requirements. You have to present receipts and product labels too for the income tax return.
Reminder
When booking roofers in Chicago for the job, make sure to do it in advance. That is because many homeowners also prefer autumn to have their roofs replaced. Calling them at a short notice might place you in their queue, which will delay the project.