Review: Bostitch RN46-1 Coil Roofing Nailer For Metal Roofing Installation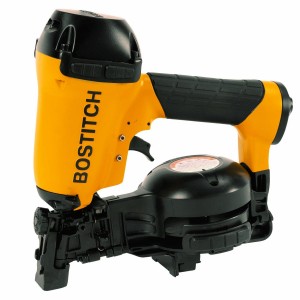 The Bostitch RN46-1 Coil Roofing Nailer is practically every professional roofers dream. It is compact, durable, lightweight and easy to use. It is a must-have for metal roofing installation.
And because it has an easy-to-use design, this roofing nailer also suits homeowners who want to do some minor and basic roofing maintenance and fixes. It was specifically designed to ensure professionals and homeowners alike would not find themselves in limbo operating it.
Boasts Long-Lasting Performance
Anyone looking for a roofing nailer that could provide long-lasting performance amid harsh weather conditions and even throughout a long storage time should be checking out the Bostitch RN46-1 Coil Roofing Nailer. Previous versions of this tool lasted for nine and more years, proving its tested durability and ensuring its high-level capacity.
In a nutshell, the Bostitch RN46-1 is a 3/4-inch to 1-3/4-inch coil roofing nailer with an adjustable depth control, full round driver, body and magazine wear guards, and side-load canister for fast nail loading.
It also has an adjustable shingle guide, so operators can have an easier time spacing the shingles, and a lockout mechanism that prevents firing when the canister is empty.
However, the thing that truly sets this roofing nailer apart is the durable yet lightweight magnesium housing and carbide tips, which provides the tool's capacity to last for decades. If that doesn't make the cut, it also has a seven-year limited warranty.
Promises Power and Accuracy
It can be difficult to be accurate when you have a less powerful tool in your hand. Working on a roof, exterior drywall, insulation board and fiber cement application can be quite daunting without the proper tool.
The Bostitch RN46-1 is powerful in the sense that it can deliver 410 in./lbs. of force at 100 psi, and can drive up to 100 nails per minute. It has two firing methods—contact trip and sequential trip.
The contact trip has a bouncing motion that is great for large areas like roofs while a sequential trip is chosen for its precision applications mostly for a finished work.
And because it has an integrated depth dial, this tool provides fast, tool-less depth-of-drive adjustments. The five-setting dial allows you to find the perfect driving depth, which includes flush mount driving, shallow driving, and countersinking.
The only problem seems to be that the user has to change between the sequential and contact triggers, making it a bit uncomfortable for some. It would have been easier if they can change triggers without having to uncork things. There were also some jamming problems, though these were quite minimal.
The Bostitch RN46-1 Coil Roofing Nailer measures 10-1/2 x 4-5/8 x 10-5/8 inches (LxWxH) and weighs 4.8 pounds. Basically, it is designed for comfort and durability, making this  a must-have tool not only for a construction business, but for the home as well.